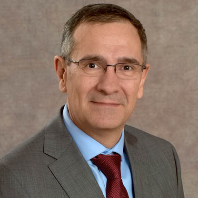 Kevin Aaron Roth, MD, PhD
Pathology - Anatomic & Clinical
Kevin Aaron Roth, MD, PhD
Pathology - Anatomic & Clinical
---
Specialties:
Pathology - Anatomic & Clinical
Schedule an Appointment
---
Connect Patient Portal
For existing patients of this provider, login or sign-up to make an appointment, communicate with your provider, manage appointments, access test results, and more.
Login or Sign-up
About Kevin Aaron Roth, MD, PhD
---
Kevin A. Roth, M.D., Ph.D. is Pathologist-in-Chief at NewYork-Presbyterian Hospital-Columbia University Irving Medical Center and Professor and Chair of the Columbia University Department of Pathology and Cell Biology. He received his M.D., Ph.D. degrees from Stanford University and trained as a neuropathologist at Washington University in St. Louis where he ultimately rose to the rank of tenured full professor in the Department of Pathology and Immunology. He was previously Chair of the Department of Pathology at the University of Alabama at Birmingham (UAB) and inaugural Director of the UAB Comprehensive Neuroscience Center. He is past Editor-in-Chief of the Journal of Histochemistry and Cytochemistry, and the American Journal of Pathology, and served as a regular member and Chair of the NIH Neural Oxidative Metabolism and Death (NOMD) Study Section. Dr. Roth's research is focused on the molecular regulation of neuronal cell death and the development of tumor cell death therapies for malignant neoplasms of the central and peripheral nervous systems.
Email: karoth@columbia.edu
Education
Residency: Barnes Jewish Hospital
Titles & Positions
Chair, Department of Pathology and Cell Biology

Donald W. King, MD and Mary Elizabeth King Professor of Pathology and Cell Biology

Pathologist-in-Chief, NewYork-Presbyterian Hospital
Hospital Affiliations
NewYork-Presbyterian / Columbia University Irving Medical Center
Need Help Finding a Doctor?